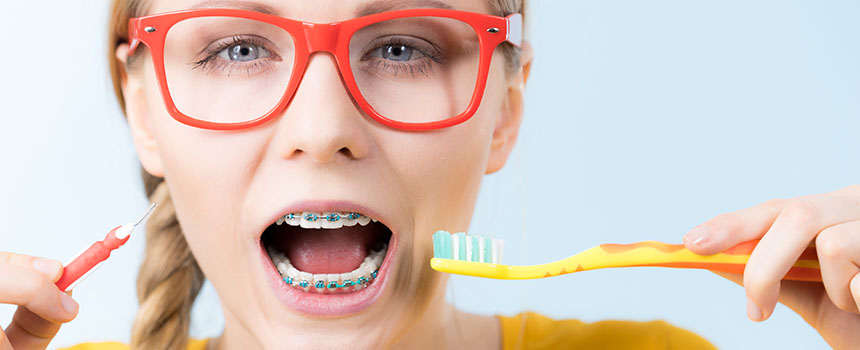 How to clean braces
Step 1
Start with the teeth in your upper jaw. Position your toothbrush above your brace and direct the bristles towards your gums. Now gently clean all around the edges of your gums. This will help you keep your gums healthy and will make your smile even more beautiful.
Step 2
With the toothbrush still above the upper brace, turn the bristles towards the brace and continue to gently clean the upper part of the brace, behind the wire and in between the brackets.
Step 3
Position your toothbrush below the upper brace and turn the bristles towards the brace. Proceed to gently clean the lower part of the brace, behind the wire and in between the brackets.
Step 4
Move your toothbrush to the brace in the lower jaw and repeat steps 1 through 3 for the lower teeth.
Step 5
Now clean the inside of your teeth. Again angle the bristles towards your gums and gently clean your teeth and gums.
Step 6
Clean on top of all your teeth. Upper, lower, front and back.
Step 7
Use a small interdental brush to clean behind the wires and between all brackets in the upper and the lower jaw. This is a very important step because your toothbrush does not always reach and clean these areas during the first 6 steps.
Rinse your mouth after you've completed these steps. The braces in the upper and lower jaw should now be sparkling clean. If not, make sure to clean the areas where you can still see dental plaque. You may now use the recommended oral rinse to rinse your mouth for 2 minutes. DO NOT SWALLOW and do not rinse your mouth with water afterwards.
Poor oral hygiene will lead to cavities and/or gum disease with or without orthodontic appliances. We will do our best to assist you in keeping everything clean, but this ultimately remains the responsibility of the patient.
Please continue to visit your family dentist for regular check-ups during the orthodontic treatment.